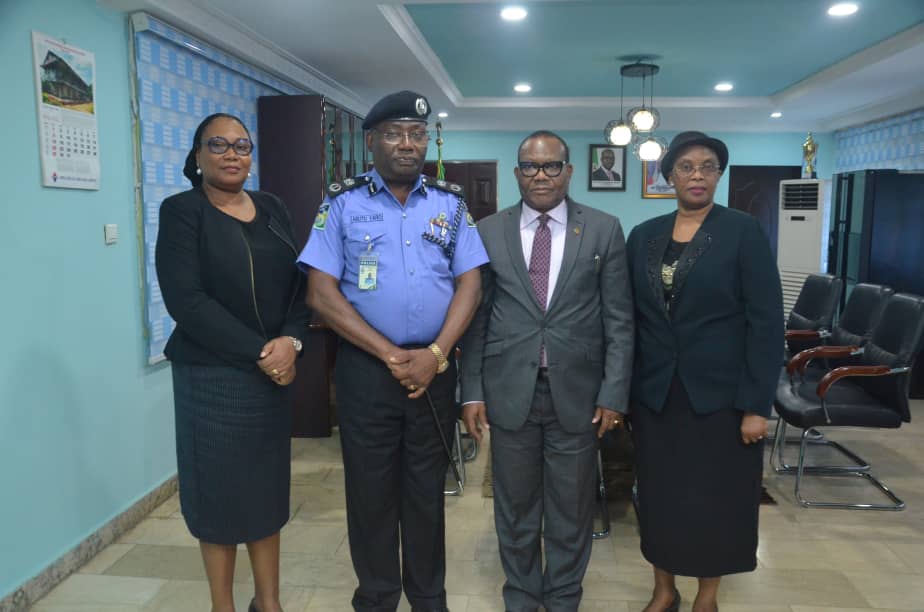 The Chief Judge of Edo State, his lordship Justice J. I. Acha played host to the new Commissioner of Police CP Abutu Yaro who paid him a courtesy visit recently to intimate him of his resumption of office in the State.
The Commissioner of Police, while addressing the Honourable Chief Judge, explained that the job of policing would not be complete without the co-operation of the Judiciary.
He mentioned that there was a very high volatility of criminal tendencies which has been heightened by political activities in the state, this has constantly put the police on its toes in the state. This in turn has made the synergy between the police and the judiciary most necessary.
He condemned the prevalence of organized kidnappings in the state and promised to stamp out the menace in no distant time.
He however noted that Edo State was relatively peaceful in comparison to other states in the country.
Then his lordship, Justice J. I. Acha expressed his appreciation for the courtesy visit and welcome the Commissioner to his office.
While congratulating him on his posting to the state, the Chief Judge however noted that the job was not an enviable one bearing in mind the security concern in the state and country in general.
He mentioned that there was a great need for the Police and the Judiciary to work hand in hand in order to ensure effective justice delivery in the State.
He also noted that there has been a marked improvement in the security of lives and properties in the State since his resumption in a little over a month ago.
The Chief Judge urged CP Abutu yaro to ensure that all recommendations made by the administration of Criminal Justice Monitoring Committee are implement SD this will go a long way to making justice delivery on the state easier.
He also promised to ensure that there is always a vacation Judge available as usual anytime the State Judges go on their vacation in order to avoid a pile up if cases and to ensure a smooth justice delivery system within the vacation period.
Evans Abegbe, Media Officer, Edo State High Court, Benin City.