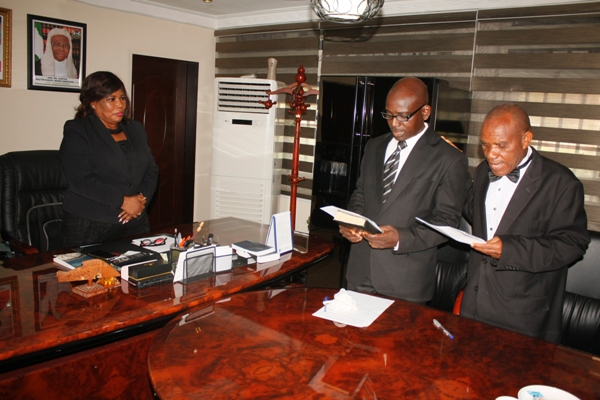 The Edo State Chief Judge, Hon. Justice Esohe Ikponmwen, has sworn in two barristers as Notaries Public for Nigeria.
Performing the ceremony in Benin City, Hon. Justice Ikponmwen congratulated the two gentlemen on their well-deserved appointment, reiterating that they had been found fit both in character and in learning, hence their recommendation to the Acting Chief Justice of Nigeria, the Hon. Dr. Justice I. T. Muhammed, for their appointment.
The Hon. Chief Judge, who urged them to see their appointment as a call to render selfless service to Edo State and Nigeria, maintained that the Notaries Public Act Cap 141 Laws of the Federation of Nigeria 2004, Section 2(1) provides that, "The Chief Justice of Nigeria may appoint any fit and proper person being a legal practitioner to be a Notary Public for Nigeria. A notary appointed by the Chief Justice of Nigeria shall perform the same duties and exercise, the same functions as a Notary in England."
She further stated that having subscribed to the relevant Oath before her as required by Section 3 of the Notaries Public Act, both Notaries, Kingsley Osabuohien Agie, Esq., and Emmanuel Tairu Ojeikhoa, Esq., were now empowered to discharge the duties of Notaries as prescribed by Section 18 of the Notaries Public Act.
In his response, Kingsley Agie, Esq., appreciated the efforts of the Hon. Chief Judge of the Edo State Judiciary, pledging that they would not do anything to negate the oath they had taken.
He also pledged to do everything within his power not to disappoint the Hon. Chief Judge and the Bar.
Nwine Nekpen Maureen                           
Information Officer, Edo State Judiciary