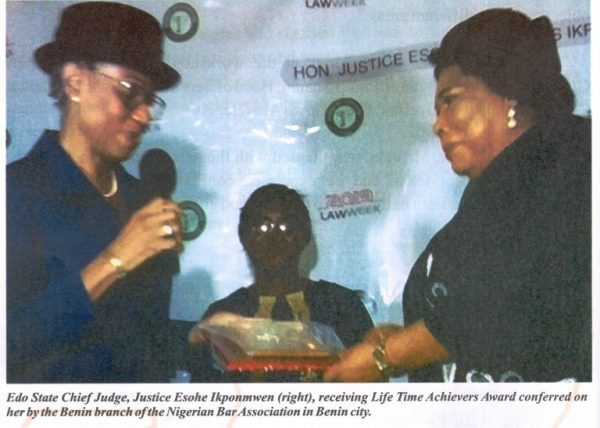 EDO STATE CHIEF JUDGE BAGS LIFE TIME ACHIEVERS AWARD
The Chief Judge, Edo State High Court, Hon. Justice Esohe Frances Ikponmwen, has been conferred with a Life Time Achievers Award by the Nigerian Bar Association, Benin Branch.
Receiving the award which was conferred on her during the 2019 Nigerian Bar Association's Law Week, Chief Judge Esohe Ikponmwen said she was grateful for the honour bestowed on her,and charged members of the Association to uphold the rule of law and the honour that comes from defending the cause of justice, praying God to take the judiciary to greater heights.
Acknowledging the Chief Judge during the Conferment of the Award, the Chairman of the Nigerian Bar Association, Benin Branch, Prince Collins Ogiegbaen, said the Award was in recognition of Justice Ikponmwen's immense contribution to the uplift and betterment of the Edo State Judiciary.
According to Prince Collins Ogiegbaen, Justice Esohe Ikponmwen, who is known to be fair and strict in the dispensation of justice, has brought uniqueness to the State Judiciary, explaining that the Jurist's tenure as Chief Judge has been harmonious, impactful and staff welfare-oriented.
He urged the Chief Judge to continue with her developmental strides as God would continue to strengthen her to do more.
Other recipients of the NBA, Benin, Life Time Award, are Hon. Justice Isaac Aluyi (Rtd), Hon. J. O. Olubor (Rtd) and Prof. Osayuki Godwin Oshodin (JP), while the NBA Benin Merit Award was conferred on Hon. Justice Esther Edigin and Hon. Justice Itsebaga Acha, Judges of Edo State High Court.
Nwine Nekpen Maureen
Information Officer, Edo State Judiciary.